CONTAINER MODIFICATIONS IN SOUTHAMPTON
Shipping containers have such a fundamental basic design (they're basically metal boxes) that they can be used for a variety of applications. We have experience and knowledge of many different container modifications, and our service includes:
Local services and customer visits where we work together with you and your colleagues to ensure we achieve the correct end product.
A dedicated account manager from initial enquiry to project build, delivery and after sales.
CAD drawing services to provide an accurate interpretation of your container conversion and to ensure that the container you want is the container you get!
Full project management including snagging report at depot prior to delivery to your site.
Organisation of delivery and off-loading relative to your container conversion.
Full after-sales support.
We have a dedicated and professional sales team ready to support you from initial enquiry right through to after sales satisfaction.
CONTAINER MODIFICATION EXAMPLES
Examples of modification projects are included below. We can build to your completely bespoke specification and have modified containers for a wide range of industries including education, health, defence, offshore, retail, catering and the arts. If what you require is not in the list please call us on 0333 600 6260.
Site accommodation units – offices, canteens, welfare units, drying rooms etc.
Anti-vandal units
Toilet and shower units.
Biomass boiler conversions.
Modular and flat pack units.
Containers with heating and lighting.
Containers with ventilation.
DNV offshore containers.
Containers with roller shutters, awnings and canopies.
Chemical store and bunded containers.
Containers with windows and doors
If you have an idea for a shipping container modification that you would like to discuss in more detail, contact our experienced sales team on 0333 600 6260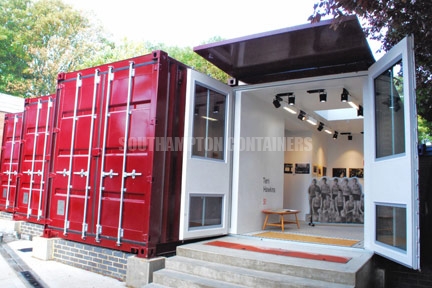 SCHOOL ART GALLERY containers
We modified four new 20ft high cube containers in order to create a bespoke art gallery for a school.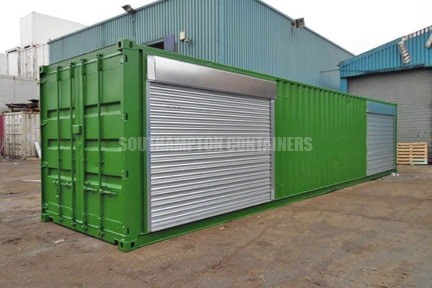 FESTIVAL SHIPPING CONTAINER pop up shop
We supplied a 40ft used container which was to be taken around the country to music festivals, selling merchandise.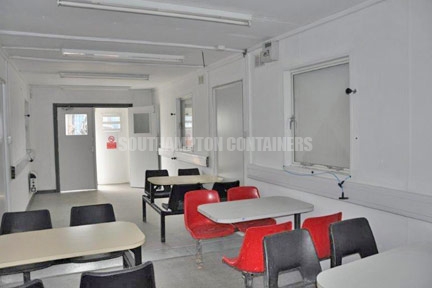 CONSTRUCTION site CONTAINERs
We supplied a building company with a selection of quality used anti-vandal site accommodation and storage units.
TESTIMONIALS
---
20FT NEW CONTAINERS (P.E SCHOOL STORAGE)
★★★★★
"
Thank you, the container is in perfect condition and the delivery driver was very helpful and skilled. We gave him a cross to aim for as the front corner and he got it spot on!
"
20FT SIDE OPENING CONTAINERS (ELECTRICAL COMPANY)
★★★★★
"
The side opener is perfect for what we need, it has easy access, plenty of room and looks great. Thank you to your delivery driver also.
"
SITE DRYING ROOM CONTAINERS (WASTE COAL COMPANY)
★★★★★
"
Thank you for delivery of unit earlier today, all seems to be ok no reports of any issues. Many thanks for all your help and efficiency from start to finish on this job, very much appreciated.
"