SPECIALISED CONTAINERS IN SOUTHAMPTON
We are able to offer out of the ordinary or "special" containers for sale in Southampton. We have a dedicated and professional sales team ready to support you from initial enquiry right through to after sales satisfaction. Specialised containers include the following:
HIGH CUBE CONTAINERS
High cube containers are generally available in 10ft, 20ft and 40ft lengths; these are perfect for taller equipment as the high cube provides an extra 1ft in height making the external height of the container 9ft 6ins and the internal height of the container 8ft 9ins. Other than the change in container height, the remaining container dimensions of a high cube shipping container remain the same as standard equipment.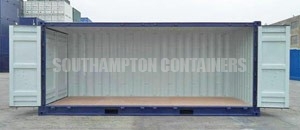 SIDE OPENING CONTAINERS
Side opening or side loading containers have standard container doors to one end and concertina doors across one 20ft length. Side opening shipping containers were initially manufactured for the military to transport heavy ammunition, therefore they have considerable strength in the flooring (it is worth remembering that this makes the floor much higher as required by the extra steel bearers). Side loading containers are ideal for storing heavier equipment, loading by forklift, for exhibitions or as an easily accessible enclosure for large pieces of machinery.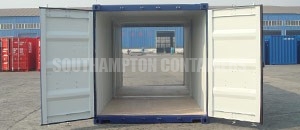 DOUBLE DOOR / TUNNEL CONTAINERS
Tunnel tainers are only generally available in 20ft lengths as standard, however, we can often convert other Standard shipping container sizes to become tunnel tainers. These containers have standard double doors on both 8ft ends and are perfect for loading smaller items, loading pallets or loading by forklift thus making items more accessible (i.e. you do not have to unload all items at the front of the container to reach the items at the back). Double door or tunnel tainers are also perfect for the containerised self storage industry, their dual entry points mean that along with the erection of a steel bulkhead partition, the 20ft unit can become two 10ft units to maximise return on investment.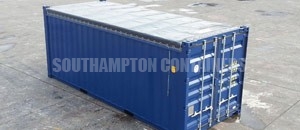 OPEN TOP CONTAINERS
Open top containers are used for cargo (or stored items) oversized in height, unlike standard containers, open tops do not have a steel roof, the top rail above the doors swings out in order to allow over sized cargo to be easily loaded. Your open top container will be supplied with a "tilt" (similar to a tarpaulin) that will act as the roof over the top of your equipment
REFRIGERATED CONTAINERS
Refrigerated Containers or "Reefers" are available in 20ft and 40ft lengths and a variety of specifications. With an average temperature range of -28 to +28 (dc), refrigerated containers are often fitted with panic alarms, ramps, lights, lockboxes and can even be supplied with GPRS monitoring systems to ensure that the temperature of your items stored is always correct.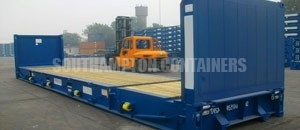 FLAT RACK CONTAINERS
Flat rack containers are available in 20ft or 40ft lengths and like open top containers, have no steel roof or steel walls across the 20ft or 40ft side of the unit. Flat rack containers are used to transport heavy, over sized pieces of equipment or machinery, they have lashing points all the way down one side of the unit in order to fix tarpaulin over the equipment or machinery. Flat rack containers are available with collapsible or fixed ends.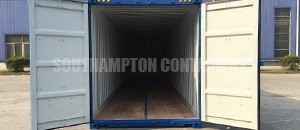 PALLET WIDE CONTAINERS
Pallet Wide containers are generally available in 20ft and 40ft lengths, their extra width of 8ft internally as oppose to the standard 7ft 7ins means that you can store two pallets next to each other either for storage or shipping purposes.
CONTAINER TESTIMONIALS
---
20FT NEW CONTAINERS (P.E SCHOOL STORAGE)
★★★★★
"
Thank you, the container is in perfect condition and the delivery driver was very helpful and skilled. We gave him a cross to aim for as the front corner and he got it spot on!
"
20FT SIDE OPENING CONTAINERS (ELECTRICAL COMPANY)
★★★★★
"
The side opener is perfect for what we need, it has easy access, plenty of room and looks great. Thank you to your delivery driver also.
"
SITE DRYING ROOM CONTAINERS (WASTE COAL COMPANY)
★★★★★
"
Thank you for delivery of unit earlier today, all seems to be ok no reports of any issues. Many thanks for all your help and efficiency from start to finish on this job, very much appreciated.
"